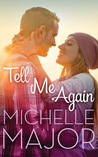 Tell Me Again by Michelle Major
My rating: 4 of 5 stars
Thank you to Montlake Romance for providing me a review copy of this book.
So, I wouldn't exactly give this book a glowing recommendations, but it's definitely a good book if you're just looking for a sappy, cry your eyes out, romance book.
Let's just get straight to the point:

-The plot was simple and commonly seen in a lot of books, but it was written in such a way that made it unique on its own. The flow of the story was really good. It was able to deliver scenes one after another without confusing you and/or thinking 'when did that happen?' It's an easy-to-read book and great for breaks in between high fantasy/ sci-fi.
-I just loved the heroine (Samantha). Her character is strong, unrelenting, and what I would look for in novels like this. I don't expect her to be strong in a kick-ass way because this book is purely romance. The hero (Trevor), however, is really stupid in my opinion. I don't know if he just thinks differently compared to normal people or if he even thinks at all. I get that he's emotional and everything from raising a 13 year old on his own, but that doesn't give him the right to judge Sam like that.
-The overall chemistry of all the characters in the book were explosive. Not just with Trevor and Sam, but also their relationship with their friends, family, and people around them.
-There were parts of the book that seemed too 'on again, off again'. I wish they would just make up their mind. This caused the book to drag on for too long, and for a supposed to be simple plot, it's not really a good thing. That's the downside of this book. It s not a major one, but hopefully the author can improve on that.
Overall, it was a really enjoyable read. I cried… a lot.
Whether you'll like this book is completely up to you, but I just loved everything about it. If you like Jennifer E. Smith, Sarah Dessen, or Abbi Glines, you'l definitely fall in love with Tell Me Again by: Michelle Major. Happy reading!!!